-FINE/DAMAGED HAIR-be STRONG Shampoo Bar
We offer a great low-waste shipping experience (your bars will be sent in a paper bag with a handwritten identifier for you to determine your bars)
the be STRONG is for fine or damaged hair. Nettle and avocado oil strengthen while red clover stimulates the hair follicle for subtle volume and new growth. PH Balanced / Salon Grade / Natural.
directions: lather in your hands or directly on your hair. We recommend shampooing twice for best results (a common tip and trick from professionals in the hair industry).  Avoid contact with the eyes.
storage instructions: after each use make sure the bar dries completely out on an elevated soap dish.  Do not store in the shower as the water and humidity can erode the bars faster.  Store in the open air and not the travel containers as it will make your bar nice and hard, and last longer.
ingredients:  Sodium Cocoyl Isethionate, Cetyl Alcohol, Decyl Glucoside, Sodium Lactate, Theobroma cacao (Cocoa) Seed Butter, Persea gratissima (Avocado) Butter, Persea gratissima (Avocado) Oil,  Olea eruopaea (Olive) Fruit Oil, Trifolium pratense (Red Clover) Flower, Calendula officinalis Flower, Lavender angustifolia (Lavender) Oil, Rosmarinus officinalis (Rosemary) Oil, Cedrus deodorata (Cedarwood) Wood Oil, Citric Acid, Panthenol (Pro-Vitamin B5), Moroccan Lava Clay, Mica.
70-75 g.
Customer Reviews
05/27/2022
Paula

Canada
Soft and Tangle Free
I have been using many different shampoo bars over the past 2 years. I have used this one for the past two weeks and have found this one wonderful. My hair is soft and tangle free. I don't use conditioner and definitely don't need to with this bar. My hair does not get oily even not washing the next day. I am going grey and I found this bar doesn't "highlight" the grey like some of the others have done. My only wish is to have a location close by to purchase, without the long drive or shipping costs when ordering on line.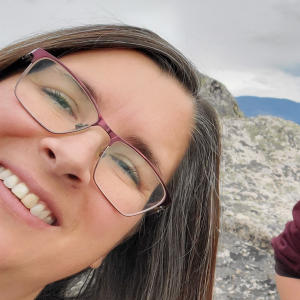 RR
03/25/2022
Rebecca R.

Canada
Amazing shampoo bar!
I was surprised how quickly it lathered, and how easy the shampoo bar was to use and take when I was traveling. The lather was thick and luxurious, and I loved the way my hair felt after using this shampoo bar. I tried a shampoo bar from another store a few years ago and didn't like it, but this one has converted me… No more bottles! I think this shampoo bar does a better job cleaning my hair than the salon bottles I used to splurge on, and it's a bonus that it takes me one step closer to getting disposable plastics out of my home
02/01/2022
Amanda

Canada
High quality! Love it!
Easy to use, and the scent doesn't bother me like most products do(scent allergy and asthma), which is a huge bonus! My hair is healthy and happy and I couldn't ask for anything better!